COVID-19 (CORONAVIRUS)
If you have any useful information (confirmed as factual!) affecting activities in Orba which is not on this page, please send an email to us

The Emergency telephone number for coronavirus in the Comunidad Valenciana is 900 300 555. Please save the number in your phone and call if you have symptoms and think that you may be infected. Self isolate immediately at home. DO NOT attend any Emergency Department, hospital center, health centre or Doctors surgery, as by doing so you could transmit the virus to other people with other existing health problems. When you call this number, they will conduct a survey and if it is positive, they will tell you how to act and will send someone out to take tests. General information on Covid-19 is available from Denia Hospital on 966 429 000 or 966 429 002.
Current Restrictions
Proof of vaccination is required for entry to all bars, restaurants, leisure establishments, cinemas, sports centres, gyms, etc. The Covid Passport (see below for instructions on how to download) shows that the bearer has either been fully vaccinated, has had a recent PCR or antigen test that has returned a negative result, or has fully recovered from the disease in the previous six months. This measure will remain in place until 23:59 Monday 31st January 2022.

Face masks must be worn in outside areas by all citizens aged 6 and above in any public open or closed space, on any means of air. sea, bus or rail transport, including platforms and stations, in taxis, and in private cars if the occupants do not live together.
Download your Covid Vaccination Certificate (Covid Passport)
As proof of vaccination is required now at many establishments, this video has information on how to download your vaccination certificate.

Home Covid 19 Tests now available in Orba
BD Clinic in Orba Avenida de Denia 37, 03790, Orba. Tel: 682 811 018 Open Monday - Friday 10am - 1pm and 5pm - 8pm
Dr Rafael Diaz can visit your home to carry out Covid 19 tests. More information, prices, etc on their Facebook page.

Other Places nearby offering Covid Tests
Levante Clinic, Ondara: Av. Marina Alta, 27, Ondara. Tel: 966 47 76 35 Open Monday – Friday 9am – 2pm and 4pm – 9pm
Get more information at https://www.levanteclinicgroup.com/

Hospital IMED, Teulada: Ctra. Nacional 332. Kilómetro 181,5. Partida el Pla 03725 Teulada. Tel. 966 44 04 44
More information at https://testcoronavirus.imedhospitales.com/?lg=3

San Carlos Clinica Denia, Madrigueres SUD A14 03700 Denia Tel: 96 578 15 58 / 54 / 50 "Very helpful and quick 30€ for antigen test results 15mins" More information at https://www.sancarlos-denia.net/indexeng.htm


Covid Digital EU Certificate
You can now apply for the Covid Digital EU certificate, which allows you to move freely and securely within the European Union. The certificate is free of charge and accessible to everyone. To obtain it, you must have received at least one dose of the vaccine, have had a diagnostic test or have been clear of Covid 19 for 180 days before travelling.


You can also apply for a vaccination certificate if you have received any doses of vaccines. This certificate allows you to prove that you have received one or two doses of one of the EU-approved vaccines. It is valid for 365 days from the date of vaccination. You can request either of the two documents by clicking on this link http://coronavirus.san.gva.es/es/certificado-digital-ue

LATEST UPDATE - BARS & RESTAURANTS
As of September 26th, the interiors of bars and restaurants can operate at 75 percent capacity, but there is no limit on the terraces.
Up to 10 can now sit at a table indoors and eating at the bar is allowed.



Vitamin D is very important for our immune system and tests have shown that patients hospitalized with COVID-19 who had insufficient levels of vitamin D had increased risk of adverse outcomes. Even though we get more Vitamin D from natural sources (the sun!) here in Spain, most people's levels are still low, particularly older people.

Doctors Appointment during Covid-19

The Denia Health Department has provided a telephone number if you wish to make an appointment at any health centre in the Marina Alta area - 965 648 604. This number will be answered on Monday to Friday from 8am to 8pm and the user can request a medical or nursing consultation.

For urgent appointments at Orba Health Centre do not go to there, but call them on 966 409 990. They will ask for your SIP card number and telephone number. You will be told in Spanish that a doctor will call you back to speak about your requirements if one is not available immediately. More information here


Orba Pharmacy (Tel: 965 583 386)
Orba Farmacia has a Facebook page with some useful info about the corona virus and pharmacy opening hours in the area.
As the pharmacy is not always fully stocked, it is recommended to call in advance to advise of any items you wish to collect, to save wasted journeys.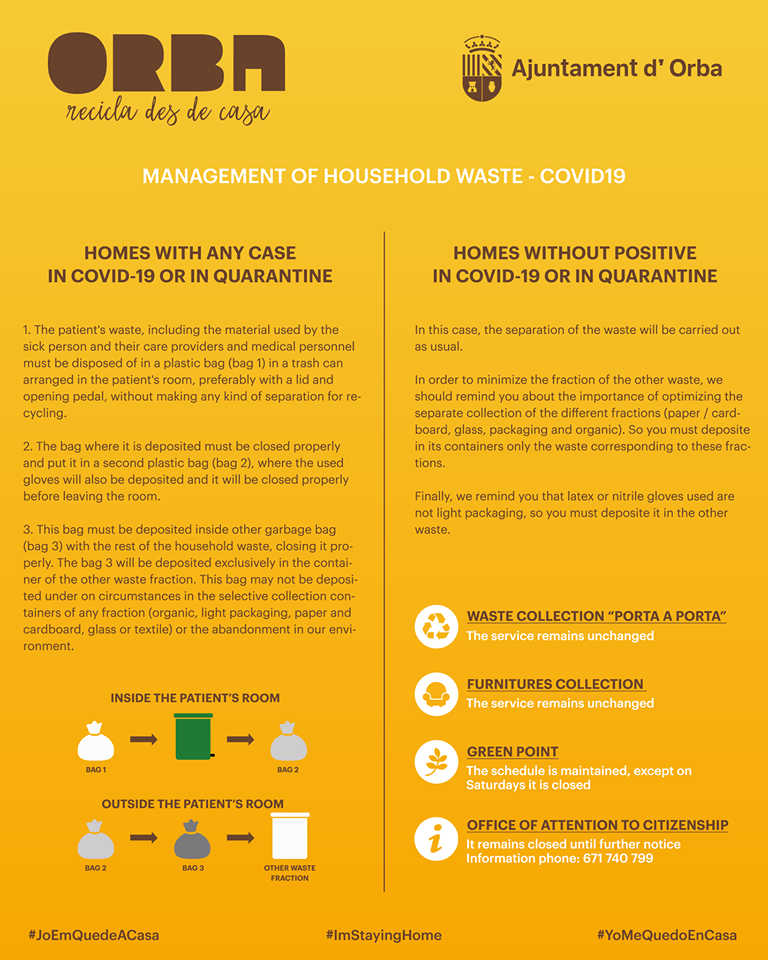 Top