EMERGENCIES

General Emergency Services number in Spain: 112

The most important number to remember is 112, the Spanish emergency services number and their equivalent of 999. Note that the operators can speak English.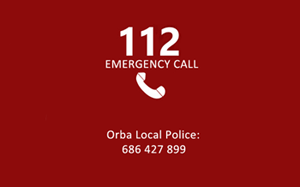 The type of emergency could be (but not limited to) any of the following:
Car accidents
Fire
Health assistance
Physical aggressions
Theft
Rescue
Natural disasters
Life risking situations or scenarios
If you are making your home in Spain you should also note that by law Spanish taxi drivers are obligated to transport medical emergencies to hospital when asked to do so. Any driver can also turn his vehicle into an ambulance if necessary. To do this you would switch on your hazard lights and fly a white piece of material from the window. Misuse of this system will result in a heavy fine.

Other numbers to note:

Police
Local Police (Policía local): 092 (Orba Local Police: 686 427 899 )
National Police (Policía Nacional): 091
Guardia Civil: 062 (Guardia Civil Pedreguer: 965 760 575 )
Guardia Civil de Tráfico (Traffic police): 963 695 899

Fire
Fire service (bomberos): 085

Ambulance
Ambulance service: 061 (Or Public Ambulance Service SAMU: 965 144 000 )
Red Cross (Cruz Roja): Ondara: 965 791 961 National: 902 222 292 Red Cross Ambulance: 965 252 525

Hospitals and Medical Centres
Orba Health Centre (Centro Salud): 966 409 985 (appointments) and 966 409 990 (emergencies)
Calle L'Alter, Orba
Opening hours: 8am - 3pm for normal appointments, but open 24 hours for emergencies


Hospital Centro Médico Acuario, Beniarbeig: 966 435 322 (Open 24 hrs)
Avda. Vergel 11, bajo, Beniarbeig
Appointments email: citas@centro-medico.com Website: www.centro-medico.com
Hospital Centro Médico, Denia: 966 435 322 (Open 24 hrs)
C/ Beniarmut 1, bajo, Dénia
Appointments email: citas@centro-medico.com Website: www.centro-medico.com
Denia Hospital (Hospital Marina Salud de Denia): 966 429 000 / 966 429 002
Partida Beniadlá, Dénia
Email: comunicacion@marinasalud.es Website: www.marinasalud.es
Orba Dental: 965 584 245
Pl. Empedrat, 13, Orba
Email: info@orba-dental.com Website: www.orba-dental.com
Monday 10:00 - 16:00 and 17:30 - 19:30
Tuesday & Thursday: 10:00 - 16:00
Wednesday: 10:00 - 14:00
Friday 10:00 - 14:00 and 16:00 - 19:30
Pharmacy
Farmacia Joaquín Escrivá Orba: 965 583 386
Calle Mayor 5, Orba
Website: www.farmaciaorba.es
Facebook page
Mon-Fri: 9.00 to 13:30 and 16.30 to 20:00
Saturdays: 9:00 to 13:30
Orba emergencies call 608 227 506


Vet
Clinica Veterinaria La Solana, Orba: 965 584 124 (Emergencies: 609 694 641)
C Pintor Ruano Llopis 7, Orba
Email: lasolanavet@gmail.com
Mon-Fri: 10:00 - 13:00 and 17:00 - 20:00
Saturday: 10:00 - 13:00
Utilities
Water: Acciona Agua: Avinguda de les Amèriques, 30. The main office number is 965 584 115 and for breakdowns or leaks call 617 405 581
Electricity: Iberdrola Customer Service: 900 225 235 (24 hours)
In English: Tel. 900 322 044 (from within in Spain) or 916 496 330 (from abroad)
Technical Support Service (Faults): 900 224 522 (24 hours)
Emergencies: 900 171 171
Health and Pharmacy Information (Infosalud)

900 161 161

Anti-Poison (Urgencias Toxicológicas, Servicio Permanente)

915 620 420

Red Cross (Cruz Roja)

902 222 292

Crisis Line (Teléfono de la Esperanza)

965 131 122
902 500 002

Drug Addiction Support (Fundación de Ayuda contra la Drogadicción)

900 161 515

Costa Blanca Samaritans
English-language Costa Blanca-based helpline provides free, confidential emotional support
To contact Samaritans in Spain, please call (0034) 902 88 35 35
We are here for you 24 hours a day, 365 days of the year.

Para aquellos que solo hablan español, Las Samaritanos España puede ser contactado en el 957 131 225
Website: www.samaritansinspain.com

FREEPHONE: 900 525 100
or 902 88 35 35

Guardian Angels - Support for single parents

622 795 542

Caritas, Calle Bonaire 2, Orba (donations of clothes and food accepted)

657 584 899

Alzheimers Support Group, Denia

966 423 673

Diabetes Support Group, Moraira

965 977 029

Royal British Legion

965 657 374

Traffic Information (DGT)

900 123 505

Emergency Doctor - If you need a doctor or medicine in a non-urgent situation and are unable to contact a doctor, ring the telephone information service 1003 or your local police station, either of whom will give you the telephone number of a doctor on call or the address of the pharmacy that is open.

1003