FREE REVOLUT CARD FOR CURRENCY EXCHANGE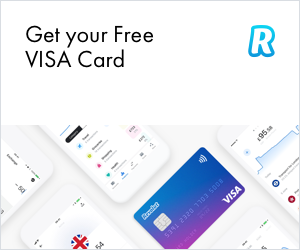 Revolut is a prepaid card and app used by 4.5m+ customers across Europe and Australia, to make massive savings on fees when spending and sending money abroad.
Open an app-based account in minutes. Hold and exchange 29 different currencies and spend anywhere with no fees in over 150 countries with a contactless MasterCard or Visa. Withdraw £200 per month free from international ATM (2% fee thereafter).
With individual GBP and EUR IBANs auto-savings, cutting edge budgeting and analytics, Revolut is also perfect for spending at home.
Premium plan offers exclusive card designs, overseas medical insurance, £400 free monthly ATM and unlimited FX transfers
Sign up for a Revolut card here